Αυτός είναι ο THEC64 Mini, "κλώνος" του "θρυλικού" Commodore 64, που θα διατεθεί στην αγορά στις 29 Μαρτίου, έχοντας εξασφαλίσει και τις απαραίτητες άδειες, για να μην αποτελεί ένα μη νόμιμο προϊόν. Πρόκειται, ουσιαστικά, για ένα mini PC με το 1/2 του μεγέθους της original πρότασης, το οποίο υποστηρίζει ανάλυση έως 720p, θύρα HDMI για τη σύνδεση με TV monitor και δύο USB ports.Στη συσκευασία θα βρείτε USB joystick και τα καλώδια USB και HDMI. Υποστηρίζει ακόμη το "Pixel Perfect" display mode σε 4:3 ratio.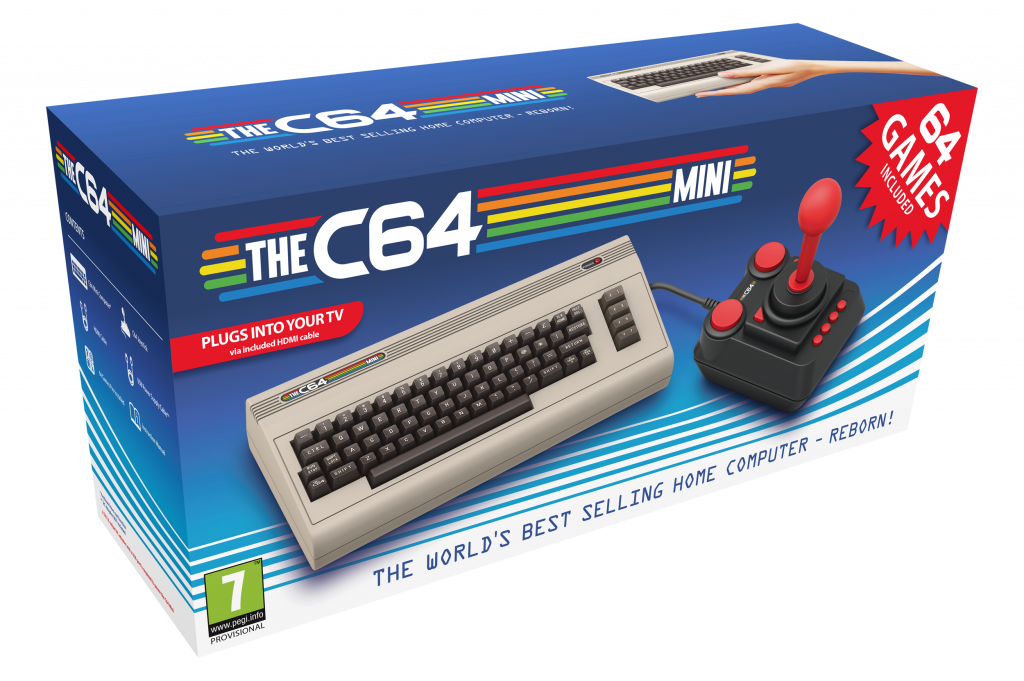 Η λίστα των παιχνιδιών του θρυλικού Commodore 64 περιλαμβάνει τα εξής:
AlleyKat, Anarchy, Armalyte: Competition Edition, Avenger, Battle Valley, Boulder Dash, Bounder, California Games, Chip's Challenge, Confuzion, Creatures, Cyberdyne Warrior, Cybernoid: The Fighting Machine, Cybernoid II: The Revenge, Deflektor, Everyone's A Wally, Firelord, Gribbly's Day Out, Hawkeye, Heartland, Herobotix, Highway Encounter, Hunter's Moon, Hysteria, Impossible Mission, Impossible Mission II, IO, Jumpman, Mega Apocalypse, Mission A.D, Monty Mole, Monty on the Run, Nebulus, Netherworld, Nobby the Aardvark, Nodes Of Yesod, Paradroid, Pitstop II, Rana Rama, Robin Of The Wood, Rubicon, Skate Crazy, Skool Daze, Snare, Speedball, Speedball II: Brutal Deluxe, Spindizzy, Star Paws, Steel, Street Sports Baseball, Summer Games II (inc. Summer Games I), Super Cycle, Temple of Apshai Trilogy, The Arc Of Yesod, Thing on a Spring, Thing Bounces Back, Trailblazer, Cosmic Causeway: Trailblazer II, Uchi Mata, Uridium, Who Dares Wins II, Winter Games, World Games, Zynaps.